Leslie Wilke, Co-President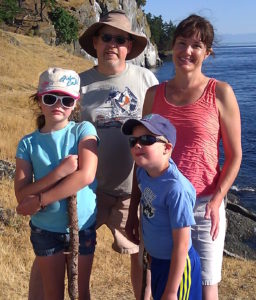 Hi Sherwood Families, my name is Leslie Wilkie and I am in my second year as Co-President on the PSO Board. I'm originally from Colorado, however I've lived in Washington 25 years and Edmonds 10 years. I just love supporting our community of kids at school. I work in the Edmonds School District and my children, Ellie in 6th grade and Jimmy in 4th, are sources of inspiration for me. It's amazing what they are learning and how fast they learn it! I look forward to hearing how we can support you and the Sherwood Staff. Please don't hesitate to contact me with ideas, questions, or concerns at  leslie@sherwoodpso.com.
Suzanne Campbell, Co-President 
This is our family's 4th year at Sherwood and living in Edmonds.  My son Jack is in the 4th grade and Claire is going into the 2nd grade.  My husband Patrick and I have been in the Seattle area for 19 years.  Our families live in Montana and New York so we enjoy taking trips to both states as well as biking, hiking, camping and cooking together. This is my second year serving on the board. I work full time and appreciate being on the PSO as it gives me the opportunity to be more involved and better keep up with all the fun things the school and teachers do for our kids.  I have loved the events we put on for families to get to know each other better and look forward to getting to know yours over this year. Feel free to email me at suzanne@sherwoodpso.com.
Carrie Hulbert, VP of Events
Hi Sherwood families! My name is Carrie Hulbert, and this will be my fifth year on the PSO board and first as VP of Events. My husband Matt and I have been married and living in Edmonds for 11 years, and we have three sons–Tyler is in 5th grade at Sherwood, Zack is in 11th grade at Shorewood High, and Hayden is attending Edmonds Community College. Zack lives with us half-time, so Tyler has the opportunity to be both an only child and a little brother. Our family loves to camp, hike and travel anywhere we can. I'm excited for this year at Sherwood, and meeting even more people in this awesome community! Feel free to email me at: carrie@sherwoodpso.com
Lauren Timpe, VP of Communications
Hi I'm Lauren.  I'm new to the PSO and to Sherwood. I'm a single mom of 2 boys (1st and 4th grade). Originally an east coast transplant but very much enjoying PNW living. I work as a dietitian and when I'm not at work I enjoy hiking, running and the beach.  This year I am looking forward to being more involved in Sherwood.
Melissa Johansson, VP of Hospitality

Hi Sherwood! My name is Melissa Johansson, and this is my fifth year serving on the board and my second as VP of Hospitality. I am a single mom to my wonderful daughter Lila who is in fifth grade this year. We love exploring all the parks around Edmonds, and especially enjoy our walks down to the beach. I am so excited for this year and look forward to meeting you all. Feel free to e-mail me at: melissa@sherwoodpso.com
Vanessa Knowles, Co-VP of  Fundraising
My name is Vanessa Knowles and I'm a single mom with 2 boys; Dylan (12) who is in 7th grade and Lukas (9) who is in 4th grade. We moved here from the Bay Area in 2009 and, though we miss our friends and family back home, we are enjoying life here in the beautiful PNW. I work full time as a patent paralegal for a law firm downtown. Since I am not able to volunteer in the classroom as often as I'd like, I'm thankful that the PSO makes it easy for a busy parent like myself to contribute and make a difference. Besides being a mom with a full time career, I also enjoy running/working out, outdoor activities with friends and family, playing/watching sports, and trying new things. I am passionate about supporting our teachers and children, so finding new and creative ways to raise money for our school AND getting more people involved, are my favorite ways to contribute. I look forward to meeting more Sherwood families this year, so please say hello if you see me around. Please, feel free to email me anytime at: vanessa@sherwoodpso.com
Kelly Oliver, Co-VP of Fundraising
Jessica Allende, Co-Treasurer
Hello, Sherwood families! I am returning for my third year as your PSO treasurer and have learned so much about our wonderful school in the process. I have so enjoyed volunteering at our school events and getting to know our amazing families – our Movie Nights hold a special place in my heart…come by our refreshment table and say hello! My son Satchel is now a fifth grader and absolutely loves his school – we couldn't imagine a more supportive and welcoming learning and growing environment. My husband and I both grew up in western Washington and have lived in Edmonds for the past several years. We love the strong community involvement both in the city and especially here at Sherwood. If you have any questions or would like to find out more about getting involved here at school, feel free to email me anytime at:  jessica@sherwoodpso.com
Molly Spellman Co-Treasurer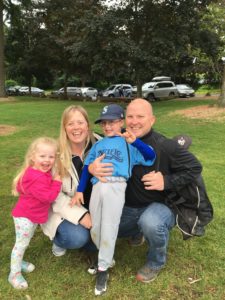 Hi Sherwood Families! I am Molly Reeves and this is my first year as a board member for the PSO.  I have an accounting degree and enjoy finance.  I work full time so my ability to volunteer in the classroom is limited.  I decided the co-treasurer role would be a great way for me to be involved with the families and activities at Sherwood.  My son Tyler is in the first grade and my daughter Lauren will be entering kindergarten next year.  My husband (Mike) and I are Western Washington natives and love living in Edmonds.  We love spending weekends doing family activities including the kids sports, hanging out with relatives and enjoying all the amenities Edmonds and Sherwood have to offer.  If you see me walking Tyler, a stroller (with Lauren) and my two dogs to Sherwood every morning, don't hesitate to roll down your window and wave hello!
Diana Gray, Auditor
Sarah Lewis, Co-VP of Volunteers
Hello Sherwood! My name is Sarah Lewis and this is my third year serving on the Sherwood PSO board. I'm a stay at home mom with four fun and crazy kids, Isabelle, Lily, Oliver and Sawyer. Isabelle is our oldest and she is a very proud third grader this year! Our second daughter, Lily is a first grader. In our free time we love exploring our region, chasing our kids at the beach and finding ways to be even more connected to our community. Please, feel free to email me anytime at: sarah@sherwoodpso.com
Liz Morgan, Co-VP of Volunteers

Hello! My name is Liz Morgan and this is our sixth year at Sherwood and my third year as a PSO board member. My husband KC, son Charlie (5th), daughter Kate (2nd) and I have lived in Edmonds for 6 years, having relocated from Ballard. I'm a working mama who values balance in my life. When I'm not working, I'm hanging out with my family, binge-watching a series on Netflix, HBO or Amazon, or dreaming of all of the amazing renovations and improvements we should do to our home. I'm very much looking forward to being involved again this year. Please introduce yourself should you see me around campus or contact me at: liz@sherwoodpso.com
Heather Alschuler, Secretary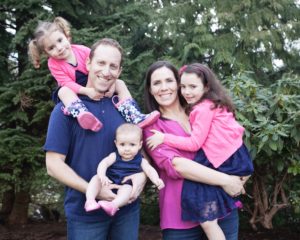 Hi Sherwood families! My name is Heather Alschuler and this is my family's first year at Sherwood and my first year on the PSO Board. Our family has just entered the world of kindergarten with our oldest daughter, Morgan. My husband, Kevin, and I also have two other daughters who will eventually be Sherwood Eagles in another two and four years. For now Lauren (3) and Addie (1) will be cheering on big sister at events and in the drop off and pick up line. We moved to Edmonds five years ago and absolutely love calling this gorgeous town home. When not shuttling our kids around to various activities, you can find our family working out and being active in the beautiful outdoors, traveling, and staying connected to our community in various ways. I am looking forward to being involved with the strong community here at Sherwood, and look forward to meeting the many amazing families that make up this Sherwood family. Please don't hesitate to contact me at heather@sherwoodpso.com
Kelly Jain, VP of Family and Community Engagement